World Market Support
With growth of the Internet worldwide, and evolution of the global marketplace, the ability of business to quality-assure web browser based applications in multiple language has become a critical factor for success of international sales. eValid's International Edition, eValid/I, allows you to accurately and quickly determine how your application handles local market conditions and constructs. Businesses that require multiple language versions of their web sites, and international distributors and companies that specialize in creating localized versions of applications, will discover that eValid/I is the ideal functional, regression, load testing, and web site analysis solution.

Script Reusability
eValid/I scripts are fully upward compatible with eValid scripts, meaning that tests created on a non-double-byte site will run the localized site automatically. This can mean significant savings within your organization, and those savings mean you can meet the tight release schedules that are often required in localized versions of your application.

Double-Byte Support With The Unicode (DBCS) Standard
eValid/I provides and essentially complete standards-based Unicode (DBCS) support for testing web browser enabled applications in any language. Full support for double-byte characters (DBCS) enables testing beyond those supported in the ASCII character set, for example in native languages such as Japanese (Kanjii), Korean, Traditional Chinese, Simplified Chinese, etc. By supporting the Unicode (DBCS) standard, eValid/I protects customers from risks and costs associated with arbitrary changes in implementations that often occur with proprietary character sets.

Localized Platform Support
eValid/I assures that your localized applications function correctly in the local hardware/software context. Test scripts recorded on your non-localized application will play correctly on your localized version. Every web-enabling technology is covered: XML, HTML, Dynamic Pages, JavaScript (JScript), ActiveX, Flash, Java Applets. eValid/I supports processing with locale-sensitive keyboards and locale-sensitive data -- dates and numbers and other local variants. eValid/I test executions assure consistent behavior.

Advanced Validation Functions
eValid/I has very detailed validation modes which allow you to confirm very specific details about results pages. eValid/I supports all eValid standard validation modes. This gives you the advantage of validating results in the native language and exploiting the powerful Adaptive Playback feature.

Test Suite Operation
You can amplify your test efficiency by organizing tests under eV.Manager control. Suites or sub-suites run flawlessly with the eValid/I system and report PASS/FAIL data automatically.

Available Interfaces
All eValid interfaces are also available in eValid/I, including the powerful eValid Command Line interface, the Interactive Interface, the eV.Manager function. The data synthesis and test data value substitution capabilities are also available.

Product Evaluation Process
To evaluation eValid/I, please start by evaluating the eValid Standard Edition with a regular evaluation key. Upon request we will provide the special INTL key which actives the eValid/I version. Scripts recorded in the eValid Standard Edition are upward compatible to playback in the eValid/I edition.

Sample Screen
Below is a sample image of eValid/I using Simplified/Standard Chinese.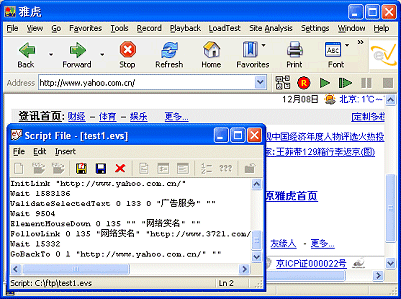 See also the Japanese Language OS Version Example and the Chinese Language OS Version Example.
Key Benefits
Here are a few of the key benefits of eValid/I:
•
Unicode (DBCS) Implementation.
•
Deploy local language versions of global applications.
•
Leverage existing skill sets.
•
Assure high quality delivery.
•
Shorten test cycle.
•
High productivity.
•
Maximize test coverage.
•
100% realistic load testing on localized machines.
•
Unique Adaptive Playback feature protects tests against minor page variations.
•
All regression functions available in local context.
Supported Environments
eValid/I runs on:
Windows XP.
All language sets.
All localizations.
License Description
eValid/I requires the INTL feature. See the International License Description for details.

Capability Details
Please see the International Edition Product Properties page for a complete description of eValid/I capabilities.