eValid™ -- Automated Web Quality Solution
Browser-Based, Client-Side, Functional Testing & Validation,
Load & Performance Tuning, Page Timing, Website Analysis,
and Rich Internet Application Monitoring.

eValid -- Summary of Available Script Expansion Techniques
eValid Home
Summary
The eValid suite provides a variety of alternative ways to elaborate a parametric test script prior to final binding and actual application to the web Application Under Test. The diagram below shows the flow and illustrates the alternatives.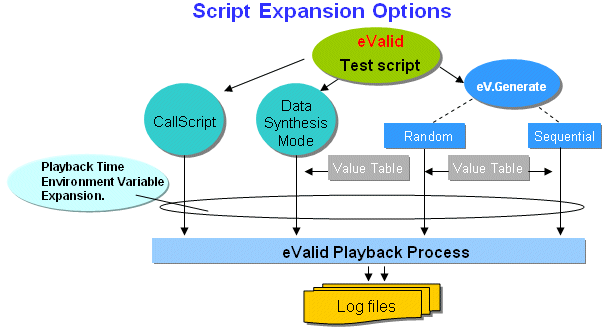 These methods include the following:
Data Synthesis Mode
$NAME=value pairs supplied in a data synthesis file are applied in successive eValid playbacks.

Please see this page for details: Data Synthesis Mode

eV.Generate Mode
Values are taken from a data generation table and inserted into the script where (% key...} structures indicate which value and instantiation details.

Random Mode. Values are selected at random from the value table for each playback.

Sequential Mode All combinations based on instances in the script are created in Godel order.

Please see this page for details: eV.Generate Summary

CallScript Commands
Values are passed to the playback script from another script based on $NAME=value assignments in the CallScript or GoScript command.

Please see this page for details: CallScript Command Definition

Environment Variables
A separate environment variables file is consulted immediately before playback to expand matching $NAME strings with $NAME=value assignments defined in the file, one assignment per line.

Please see this page for details: Environment Variables Command

Additional Details
Some additional details about $NAME=value assignments:

Once defined, the value for $NAME is persistent and is global. $NAME can appear in any script and will have its first assigned value. This includes a script that is referenced by a CallScript but does not include any redefinition.
In any one playback session, $NAME can be given different values but only in the same script. This means that a called script cannot reassign a value to $NAME, but the parent script (where $NAME was originally defined) can include different value assignments.

Summary of Rules
Here is a simple set of the expansion rules:

Environment Variable expansions are done last.
Data Synthesis expansions are done before Environment Variable expansions.
The Data Synthesis file and the Environment Variable files, if both included in a script file, may occur in any order.
eV.Generate processing is performed separately and is independent of the other types of processing.