eValid™ -- Automated Web Quality Solution
Browser-Based, Client-Side, Functional Testing & Validation,
Load & Performance Tuning, Page Timing, Website Analysis,
and Rich Internet Application Monitoring.

Summary
This group of settings affects how eValid supports activites to synchronize playbacks that involve asynchronous events.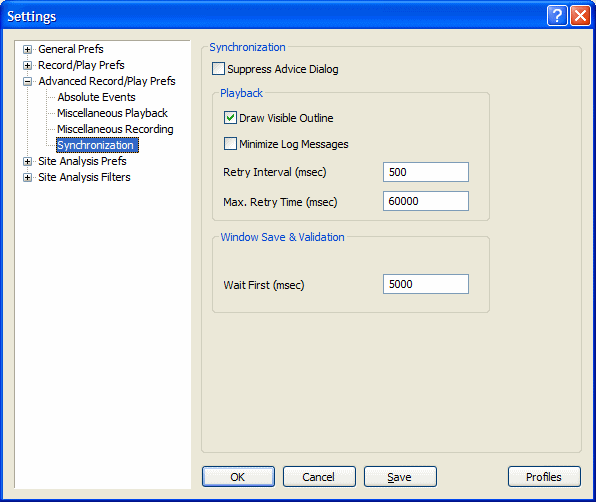 Explanations
Here are explanations for the options shown above.
Suppress Advice Dialog. If selected, eValid does not provide advice dialogs for synchronization activities.

Draw Visible Outline. If selected, eValid will briefly show you the outline of an area that is being scanned so that a checksum for it can be generated.

Important Note. The visible outline feature is a user convenience that is not actually necessary to the synchronization process. As such it may in some case interfere with normal operation of a playback, and possibly result in failure to synchronize. The most reliable synchronizations occur with this option not checked.

Minimize Log Messages. If selected, eValid suppresses extra log messages when synchronziation is not accomplished. In effect, eValid synchronizes silently.

Retry Interval (msec). This value specifies the length of time between retries to synchronize a screen image.

Max. Retry Time (msec). This values specifies the maximum time during which synchronization is attempted. If this interval is exceeded the synchronization attempt is dropped, appropriate messages are written to the logfiles, and playback continues.

Wait First (msec). Amount of time to wait before taking a screen shot.