eValid™ -- Automated Web Quality Solution
Browser-Based, Client-Side, Functional Testing & Validation,
Load & Performance Tuning, Page Timing, Website Analysis,
and Rich Internet Application Monitoring.

Summary
This section selects features that influence eValid recordings.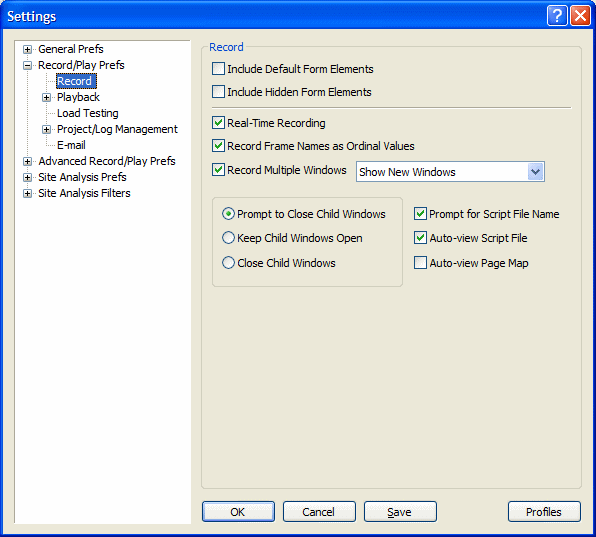 Explanations
Here are explanations for the options shown above.
Include Silent Commands.
Include Default Form Elements. If selected, this option includes default values set for FORM elements.
Include Hidden Form Elements. Allows HIDDEN input elements to be recorded.

Real-Time Recording. If selected, eValid makes the recording with real time Waits. Otherwise, no Waits are recorded.
Record Frame Names as Ordinal Values. Normally, eValid records frames using their user-assigned names. With this option, eValid keeps track of frames in numeric order of creation.
Record Multiple Windows. This is an option to record subwindows.

Show New Window. This is the default setting, in which ALL new windows are opened for recording.
Suppress New Windows. New windows are suppressed [this includes popups].
Prompt Each Time. Asks the user each time a new window appears.

Prompt to Close Child Windows. Prompts to close all running eValid subwinodws at the start of a new recording.
Keep Child Windows Open. Does not close running eValid subwindows at the start of a new recording.
Close Child Windows. Automatically closes all running eValid subwindow at the start of a new recording.
Prompt for Script File Name. Prompt user to supply a script filename at the beginning of every recording.
Auto-view Script File. Automatically launches the script window when a recording session has started.