eValid™ -- Automated Web Quality Solution
Browser-Based, Client-Side, Functional Testing & Validation,
Load & Performance Tuning, Page Timing, Website Analysis,
and Rich Internet Application Monitoring.

Summary
These parameters and settings affect how eValid's load testing feature operates.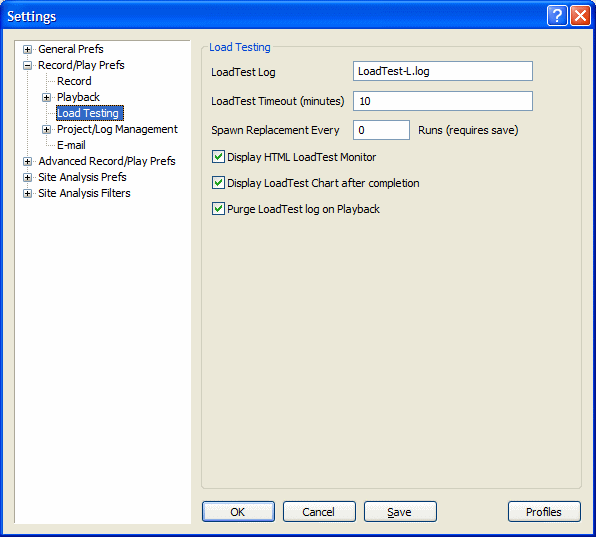 Explanations
Here are explanations for the options shown above.
LoadTest Log. Filename for the LoadTest Log produced during LoadTesting.

LoadTest Timeout (minutes). Maximum amount of time for a LoadTest to complete. Exceeding this value results in a TIMEOUT.

Spawn Replacement Every __ Runs (requires save). Normally repeated playbacks in eValid in LoadTest mode are done sequentially in the same sub-eValid browser. This can produce large-footprint copies of each eValid instance because as the number of pages handled grows, so does the size of the required execution space. This is the natural behavior of the eValid browser.

When this option is selected the eValid LoadTest manager automatically terminates and restarts [i.e. respawns] the eValid instances after each completed LoadTest playback for that sequence of playbacks in the LoadTest scenario.

This action has the effect of minimizing overall RAM use because the storage growth for each eValid instance is only that for one playback.

Note that if the playback repetition count is 1 then this option will have no effect.

Display HTML LoadTest Monitor. Displays the status of the running LoadTest.

Display LoadTest Chart after completion. Automatically displays the chart after a LoadTest completes.