eValid™ -- Automated Web Quality Solution
Browser-Based, Client-Side, Functional Testing & Validation,
Load & Performance Tuning, Page Timing, Website Analysis,
and Rich Internet Application Monitoring.

eValid has a number of user-settable preferences, including a Cache Management option.
You can adjust how eValid handles the cache from these options: User Preferences, Cache Management and Advanced Preferences are reached and set from the eValid menu using the following pulldown sequences.
eValid: Settings > Record/Play Preferences
eValid: Settings > Record/Play Advanced Preferences
eValid: Settings > Cache Manager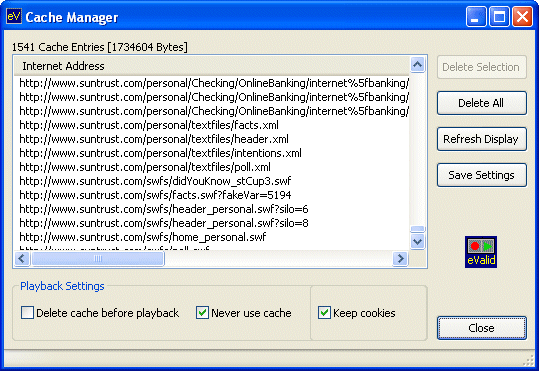 eValid CACHE MANAGER
Cache Manager Button
Default Value
Description of Operation
Number of Cache Entries
-
Counts the number of files in the cache.
Delete Cache Before Playback
OFF
Clear the cache before starting playback of the script. Note that in this mode if the script requests a page several times it will be in the cache for the second and subsequent references, a behavior that is very realistic.
Never Use Cache
OFF
Turn off the cache entirely. This must be done with an empty cache; you will be prompted for this.
Delete Selection
-
Delete the individual file or files that are currently selected.
Delete All
-
Delete all cache entries
Refresh Display
-
Update the display of cache contents from the current cache area.
OK
-
Close the Cache Management Window
Unitary Resource Note
The cache, like the desktop, is a unitary resource that is shared between all eValid browsers running on your machine at any one time. Like the desktop, you may need to use the Lock/Unlock MUTEX command to prevent ambiguous operations due to interactions at the cache level between two or more eValid instances running at the same time.