eValid™ -- Automated Web Quality Solution
Browser-Based, Client-Side, Functional Testing & Validation,
Load & Performance Tuning, Page Timing, Website Analysis,
and Rich Internet Application Monitoring.

eValid -- Chart Option -- General Description
eValid Home
Introduction
The eValid charting applet is used in a variety of ways to display information collected during eValid runs. This page describes the basic features of the charting applet.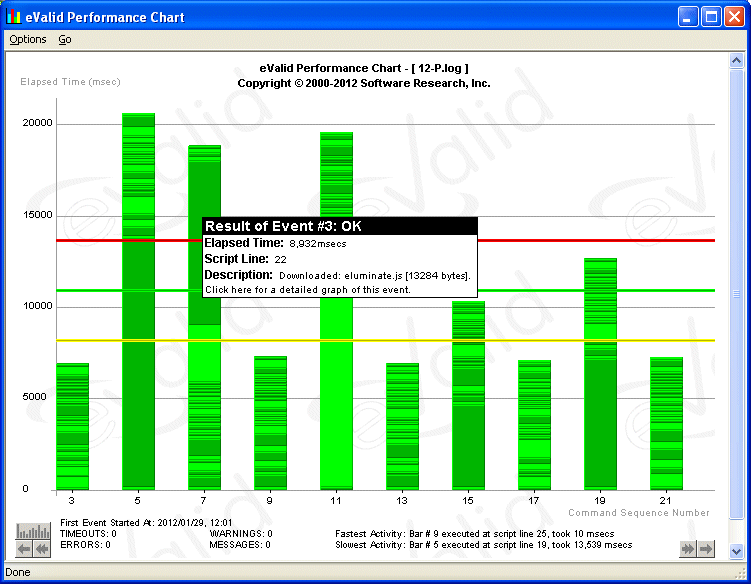 All of the eValid Chart Options have common characteristics:
Scaling: The charts are self scaling. The horizontal and vertical axes are always scaled to fit the data.
Vertical Axis: The vertical axis is always time measured in milliseconds
Vertical Bar Scaling: Any vertical bar that would be too small to be seen, after the vertical scale has been set, is expanded to a minimum size (so it can be seen). Such bars will have a "down arrow" on top to indicate this.
Left Vertical Time Readout: If you hover over the left hand side of the chart you can read out the exact time value.
Horizontal Axis: The horizontal axis is time or event sequence related. Going right means increasing time or increasing event counts. The meaning depends on the specific data you're viewing.
Expanded Detail: You can expand the presentation of any chart by clicking on the vertical bar. You can return to the original chart by clicking on the graph symbol.

Results Description: On the chart you will see, for the data being displayed, the following detailed information:

The total number of TIMEOUTS.
The total number of ERRORS.
The total number of WARNINGS.
The total number of MESSAGES.
The fastest activity, its location on the chart, the corresponding script line number, and the time.
The slowest activity, its location on the chart, the corresponding script line number, and the time.

Average Value Calculation: Whenever possible the average value of multiple columns in the chart is calcluated and displayed as follows:

Green Line: Average value.
Red Line: 25% above the average value.
Yellow Line: 25% below the average value.

Hover: If you "hover" the mouse over a vertical bar you will see the details of the information that is represented by that line. The data presented includes:

The Event number and event status code. The script line number. A descritpion of the event (basically, the right hand side of the corresponding logfile).

Right/Left Pan Feature: If the chart does not fit in the allocated area, there are right and/or left arrows -- at the lower right and the lower left of the display. You can use these to click one bar right and or left, or to move the entire display right and left, respectively.
See also Chart Examples for explanations of variations of use of this chart within the eValid system.